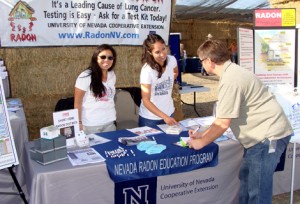 In 2007, the University of Nevada instituted the Nevada Radon Education Program (NREP) with the goal of raising awareness about the risks of the deadly radon gas in the Nevada region.
Most people cannot define radon gas or its related health risks. The NREP found this lack of knowledge to be a worrisome issue. Further concerning to the NREP is how few people know that many counties in Nevada are in radon red zones – areas with unsafe levels of radon. The AARST estimates, on average, 1 death every 25 minutes in the U.S. due to radon-related lung cancer. Unfortunately, Nevada residents are highly susceptible to being caught in this alarming statistic.
The program took the initiative to educate Nevada's citizens about the severity of radon in the region. They've done an exceptional job spreading the word about radon and offering free do-it-yourself test kits to Nevada residents. By familiarizing citizens with the basics of radon and promoting radon testing, the safety and health of Nevada's residents is measurably improved.
Our company continuously receives positive feedback regarding the NREP. Many of our clients learned of the high radon levels in our region from this program. They express their thanks for their newfound knowledge on this carcinogenic gas that's been quietly living in their houses all this time. The only way to know if your home is safe is to test it. We invite you to visit the Nevada Radon Education Program website for free test kits, helpful information, statistics, and other resources concerning radon. We encourage everyone to test their home to ensure the safety of you and your family.