Radon Testing
Testing for radon gas is the only way to know for sure if your home, office, apartment or commercial building has radon. Elevated radon levels are present in approximately 65% of properties in Northern California and Nevada dependent upon your location. Click here for a map to determine whether your home or business is located in a zone with high radon concentrations.
Radon is a colorless and odorless gas and as such can only be detected with highly sensitized equipment designed to test for the presence of radon.
Radon Testing for Real Estate Purchases or Financing
We highly recommend testing for radon prior to purchasing or signing a lease for a property to ensure your safety and the safety of those you care about who will spend considerable time in the premises. Please note that given the high concentrations of radon in our region we do not suggest that the presence of radon is a reason to walk away from a deal, but rather the moderate costs for mitigating become a factor in the negotiations and or closing costs for the property.
Radon testing for a real estate transaction should be conducted by a firm/individual certified by the NRPP/AARST to do radon testing. This ensures that you are getting a "Certified Radon Report" that is valid for your real estate purchase or HUD mortgage financing transaction.
Because radon levels fluctuate naturally minute by minute, and, are also affected by weather conditions, testing protocols require that tests are conducted over a 48-hour period. The property being tested must be closed for a minimum of 12 hours prior to our setting the continuous radon monitor equipment.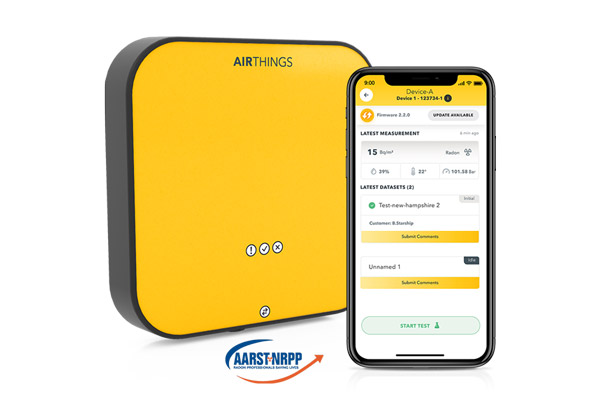 The property must remain closed for the full 48-hour period. Normal ingress and egress are permitted during the testing period, but windows may not be opened nor should other real estate inspections be scheduled during the testing period.
The continuous radon monitors are all computerized and sync with an App that indicates whether the equipment has been moved or tampered with, or if there have been sudden changes in temperature, barometric pressure, humidity conditions within the property. We encourage participation by yourself or your realtor during placement and/or retrieval of the testing equipment.
The Certified Radon Report will provide an hourly reading with a graph indicating radon fluctuations. The report will have a calculated average and contain the tester's recommendations for the property dependent upon the radon levels detected.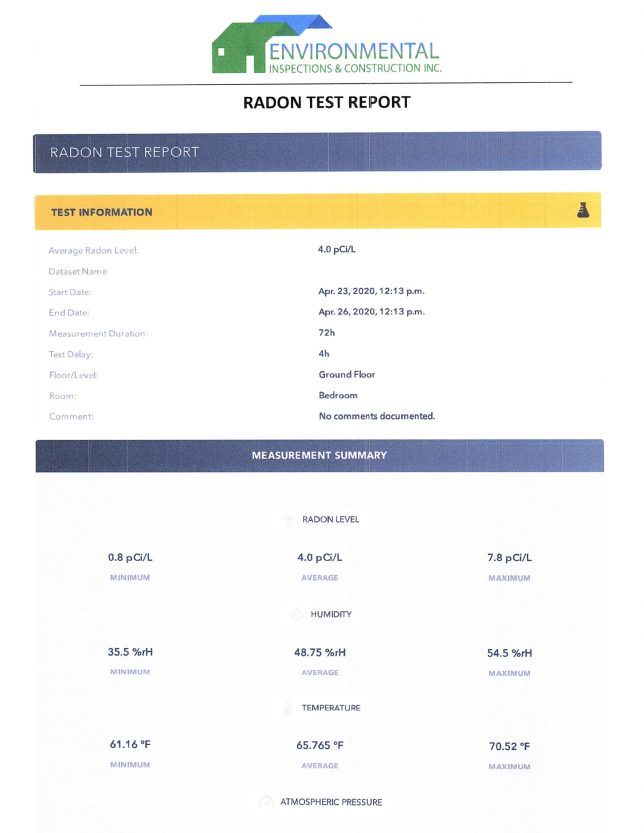 Testing a multifamily apartment/complex or multi-unit building?
Click here for more information.
What happens if my radon levels are elevated?
Our technicians are certified in both testing and mitigating. Thus, when the technician arrives to pick up the radon testing monitor, they will automatically look at the property to determine how we would design and install a radon mitigation system. This saves you and your realtor the time-consuming task of scheduling a third appointment to get an estimate for mitigating. The technician brings their worksheet back to the office where it is converted into a proper radon mitigation proposal for your review.
Can I Test for Radon Myself?
Radon testing is best carried out by a certified radon tester, however there are now options for individuals to test for themselves outside of real estate transactions. The University of Nevada Reno and the California Department of Public Health offer free or low-cost charcoal test kits that you set in your home and mail in for results. You can also purchase a radon tester such as the Airthings Corentium Home Detector from Amazon.com. If testing indicates elevated levels of radon in your home, radon mitigation is strongly recommended to ensure the safety of you and your family.
How often should a property be tested?
The Environmental Protection Agency (EPA) recommends that properties are tested every two years. This is due to the fact that properties can be impacted by settling, earthquakes, remodeling and other factors that can affect the amount of radon entering a structure.
References
We have longstanding relationships with many real estate agents in our service area and are happy to provide references upon request.