Environmental Inspections & Construction, Inc.
Reno/Tahoe's most experienced and Certified Radon Testers and Mitigators
We offer industry-certified Radon Testing and Mitigation services for residential and commercial properties in Northern Nevada and California.
EIC, Inc. ensures healthy spaces and peace of mind for customers who want to protect the health of their families, co-workers and friends by providing professional radon testing and mitigation system services, with a one-stop approach to all of your radon needs.
We provide the initial testing, mitigation and post-mitigation testing. Post-mitigation testing ensures a quality installation and radon reduction that meets the contracted Guaranteed Levels included in all mitigations.
Whether testing is performed by EIC, homeowner or third-party, we are more than happy to provide a free mitigation* proposal for your home.
All Radon systems are custom designed on-site by NRPP Certified Mitigation Specialist Cameron J Dopke (#112346-RMS) and installed by only NRPP certified staff to ensure our high standards for quality and system effectiveness.
Our staff is here to help answer all questions associated with your radon concern. From initial contact to the completion of your project, EIC office staff and installers will communicate the process step by step, before and after installation.
* within our standard service area, travel cost may apply based on distance.
---
Our Values
---
We're Your Area Experts
Serving Lake Tahoe and surrounding areas including Carson City, Reno, Gardnerville, and Placerville.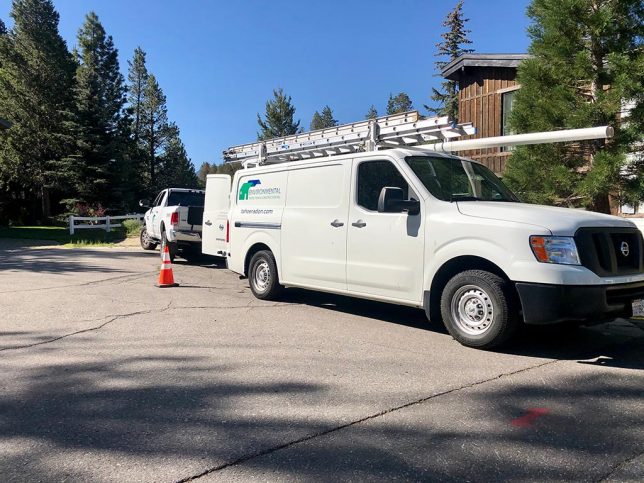 ---
Certifications and Professional Memberships
---
Reviews and Testimonials
I have used EIC twice now on two different homes and each time I have been very happy with the service and results. Their install teams are very professional and responsive to my needs. In my current house the radon levels have gone from 6.0 down to under 0.5 with the installation of an exhaust fan in my crawl space. I highly recommend EIC to anyone needing help with radon mitigation.
When buying our home in Tahoe, our realtor recommended we get a radon inspection performed, since it can often be an issue around these parts. Turns out our levels were 85! For reference, the WHO recommends mitigation for anything over 2.7, and the EPA recommends mitigation for anything over 4. Said differently: we had levels over 30x what the WHO considers to be risky. Pretty sure if we lived in the house with the levels at 85, our risk for developing lung cancer would be higher than a smoker who went through a carton per day. Prior to this event, we'd never even heard of radon or the risk it can pose. We seriously considered not buying the home at all - the risks being what they are. However, after speaking with Cameron, he talked us through how the mitigation would work, and provided a written guarantee that he'd get the home under the WHO recommended levels (2.7). For those curious, the mitigation is effectively to put a thick layer of plastic under the entire home that traps the radon (preventing it from rising into the home), and then a fan that pulls that air out and blows it away from the home. With Cameron's reassurance and education, we felt comfortable proceeding with the purchase, and are glad we did. As of this writing, the radon in the home is .9 (yes, that's a decimal place in front of the 9... as in, less than 1). Again, we started at 85... the radon here now is less than our prior home's levels (after learning about radon, we purchased a detector to learn what our old home levels were, and they'd range anywhere from 1.3-3ish). Granted, the levels do fluctuate - some days it'll be up to 1.7, depending on barometric pressure (lower ambient pressure pulls more gasses up from the ground) and other factors. We couldn't be happier with the results, and are glad to have had Cameron's patience and willingness to help educate and guide us through the process. Furthermore, he was able to perform the work on an expedited timeline, and also did some additional work under the house (replacing our furnace flue) that needed to get done while in the crawlspace at an extremely reasonable rate. Again, could not be happier with the experience, and really appreciate everything Cameron and his team have done along this stressful journey. I'd 100% recommend them in an instant to anyone needing any work done in relation to radon.
Grant McCracken
2022-12-04
They did an absolutely amazing job mitigating for radon. Not only is their work pristine but they helped explain everything to us during a stressful time, provided us with more resources and got the radon lower than targeted. Very thankful for their work!
Laura Congress
2022-11-29
We had a new radon fan installed by EIC a few months ago when we moved into our new construction home. When we noticed the circuit breaker kept triggering due to an arc fault, we called EIC even though we weren't certain the radon fan was the culprit. Cameron came out to our house and spent well over an hour diagnosing possible issues with the radon fan as well as the electrical setup of the house. When he didn't detect obvious problems with the wiring, he had his team completely replaced and rewired the fan, then thoroughly tested the circuit. It was obvious Cameron and his team genuinely cared about their customers and would go the extra mile to back up their work. They were professional, responsive, and authentic. Needless to say, I highly recommend Cameron and his team for your next project.
Cameron was extremely helpful during be initial inspection and provided insight into the entire process. His team that did the install were great, they were in and out before I even realized it. Highly recommend their services to anyone.
These guys were great! Initially, they did a radon test for our new home, and as it turned out, the radon level was way too high. So we asked them to install a radon mitigation system. They came out and installed everything quickly and very professionally. I definitely would recommend them.
Cameron Dopke did a lot of work on my South Lake Tahoe rental. A few of the projects included: adding a new radon system, cleaning up the mold, removing popcorn ceilings, fixing the deck, updating a bathroom and more. He was very communicative, efficient and overall did an awesome job. I know I'll be calling him again for future projects. Thanks for everything, Cameron and Jodel!
Margarita Mendoza
2022-10-25
Great people to deal with.
I purchased 2 continuous monitoring devices in 2021 and had nearly a year's worth of data for my Bijou Ranch home. My average radon level was around 3x the USEPA recommended limit, and 4-5x the WHO benchmark. I had taken several mitigation steps myself, such as installing a whole house fan and ventilating the crawlspace. Much to my dismay, these actions were ineffective, especially in the winter when the house is sealed up most of the time. The only thing that worked was keeping all of the windows open all of the time, which is impossible in Tahoe. I was thinking about laying down the plastic sheeting myself... and dreading it. I finally broke down and called Cameron. The whole team was super helpful. Cameron described the materials and steps they take to create an effective barrier, including the double boot on my many piers. I know I would not have been nearly that thorough, so my continued efforts probably would've been much less effective. We'll continue to monitor to see the long term effects, but the peace of mind to know that we did it right, and are protecting ourselves and our friends, is worth it.
Robert Horowitz
2022-07-28
Tahoe Radon did great work lowering Radon levels in the home I just bought. It went from a 3.2 average to a .8 average after the Radon Mitigation System was installed. Radon can cause lung cancer if you are exposed to too much of it, so this was a really important project to do for my health in my new spot!
Based on 14 Reviews