Environmental Inspections & Construction, Inc.
We offer industry-certified Radon Testing and Mitigation services for residential and commercial properties in Northern Nevada and California.
EIC, Inc. ensures healthy spaces and peace of mind for customers who want to protect the health of their families, co-workers and friends by providing professional radon testing and mitigation system services.
---
Our Values
---
We're Your Area Experts
Serving Lake Tahoe and surrounding areas including Carson City, Reno, Gardnerville, and Placerville.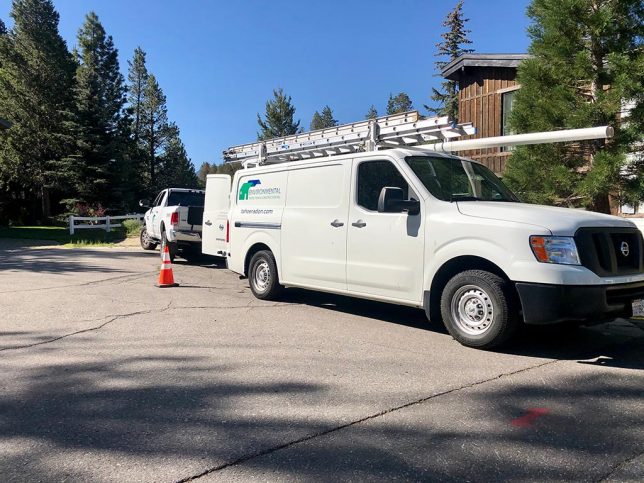 ---
Certifications and Professional Memberships
---
Testimonials
Carolyn W. May 2020
"Thank you, Environmental Inspections & Construction! You were professional from start to finish and greatly reduced our radon exposure. We highly recommend this company. Radon is dangerous and we have a lot of it in our area. Get yours checked. And if it's high, get this company to fix it."
---
Amy H. May 2020
"Jim and his team were extremely responsive and professional from initial contact through a few tweaks post-install. After our radon results came back with a high of 9.7 pCi/L, Jim designed the most cost-effective and efficient solution, and was able to reduce our numbers to a high of 0.1 pCi/L. His install crew was extremely knowledgeable and friendly, and even took precautions to safely be inside of our home during the COVID-19 pandemic. And it always helps to have a friendly administrative assistant to communicate with – thanks Maritza! The whole process took about three weeks, and the price was extremely fair for the amount of work that goes into the install. I would definitely recommend EIC, Inc. for any radon needs."
---
John W. May 2020
"Hello Jim. I want to thank you and your team on the great job you did mitigating the elevated radon levels in our home. The entire experience was high quality from start to finish and the results are spectacular. Your crew was knowledgeable, experienced, hard working, responsive and very professional. It's a relief knowing our radon levels are now far below the World Health Organization recommendation. Thanks for a job well done!"
---
Jason W. July 2015
"After my house tested positive for Radon (6 pCi/L), I contacted three separate contractors for quotes. Jim at Tahoe Radon was the first to come by, and after a thorough inspection, he gave me a very fair price for radon mitigation. A few weeks later I decided to use his services and I was not disappointed. The installation went flawlessly and my house tested at less than 1 pCi/L, or four times lower then the recommended safe level. Unfortunately, two days after Jim finished his mitigation, my crawl space flooded due to extreme rain and poor drainage. He was very helpful and went out of his way to make sure any issues that occurred from my flood were corrected. I would recommend this contractor [Tahoe Radon Environmental Inspections & Construction Inc.] to anyone in the Tahoe/Carson City area that needs Radon services."