Radon Mitigation
When should I worry about the radon levels?
The EPA suggests installing a mitigation system (fixing a property) when the structure has a reading between 2.0 pCi/L and 4.0 pCi/L and definitely recommends mitigating when the property has a reading at or above 4.0pCi/L.
How Radon Gets into Your Home, School or Business
As radon rises through fissures in the ground lower air pressure inside the structure will draw the radon gas up through any cracks, seams or openings in the foundation allowing it to enter the structure. Newly constructed buildings are just as likely to have high levels of radon as older properties. Radon is unpredictable so even if you live in a relatively low risk area, your property could have significantly higher levels than a neighboring property.
Radon is equally likely to appear in structures with slab foundations as it is in structures with basements, crawlspaces or pile foundations. This is because the radon microns are so small that they can flow up around a pipe or through minor cracks in the foundation. Thus, any structure where people and pets live work or play should be "mitigated" if the levels are at or above 4.0 pCi/L and one should consider the risks where readings are at or higher than 2.7 pCi/L.
Radon Mitigation
Radon mitigation includes designing and installing a system that will reduce the amount of radon that is entering the structure. Because radon is an ongoing natural process it isn't possible to remediate (remove) radon all together and hence the industry protocol is to install mitigation systems. EIC has a proven track record of successfully designing and installing several thousand systems to reduce radon levels to protect the health of those spending time in the structure.
How does Radon Mitigation Work?
The basic concept of a radon mitigation system is to reduce radon levels present within the home, school or workplace. Radon mitigation is done by addressing the pressure differences between a structure and the soil it sits on. Pressure is affected by wind, temperatures, and barometric pressure – all of which means that the radon entering the structure varies as the conditions vary.
Radon mitigation systems are designed to counteract this pressure by creating a negative pressure system whereby the radon is unable to enter the home or it is vented safely to the exterior. The systems are powered by specialized radon fans. EIC uses fans manufactured by several different firms dependent upon the size and design of the structure(s) being mitigated.
How do I get a bid on a radon mitigation system?
EIC will visit your property to look at its design and construction. It isn't possible in our region to provide a price per square foot over the phone as systems have to take into account the foundation(s), soil composition, living areas, stem walls, piles, access to electrical and other structural components. The technician will walk the property, enter the crawl space if applicable and potentially do some diagnostic testing to determine airflow feasibility. He will sketch out a system design unique to your home and estimate the materials and labor necessary. That information will be transferred into a proposal provided to you within 48 hours. The proposal will describe the type of mitigation system to be installed and the price for the system. EIC does not charge for estimates.
What is involved in installing a radon system?
Radon mitigation systems vent radon away from your property using a specialized radon fan that typically use less energy than a 100-watt light bulb. The systems can generally be installed within one to three days with more extensive systems taking somewhat longer. Occupants can stay in the property while the system is being installed by our trained and certified technicians. There are several primary systems utilized for mitigating radon as outlined below. Structures with multi-faceted foundations or unique architecture may require a combination system.
For homes built on a slab:
Sub-Slab Depressurization Radon Mitigation System
Sub-slab Depressurization (SSD) system are created by coring a hole in the slab and removing approximately 10 gallons of dirt/stone from underneath to create a pit. This hole may be cored from the outside of the home at the foundation wall or from inside in an unobtrusive location such as the basement or a utility closet. PVC is inserted into this hole and routed to the outside of home and attached to a specialized radon fan creating a suction system that pulls the radon out from under the home. The size of the fan and the number of pits (suction points) will be determined by permeability of the soil beneath the slab, and the number of footings within the building. Generally speaking, most homes require just one suction pit and one fan.
Active Soil Depressurization Radon Mitigation Systems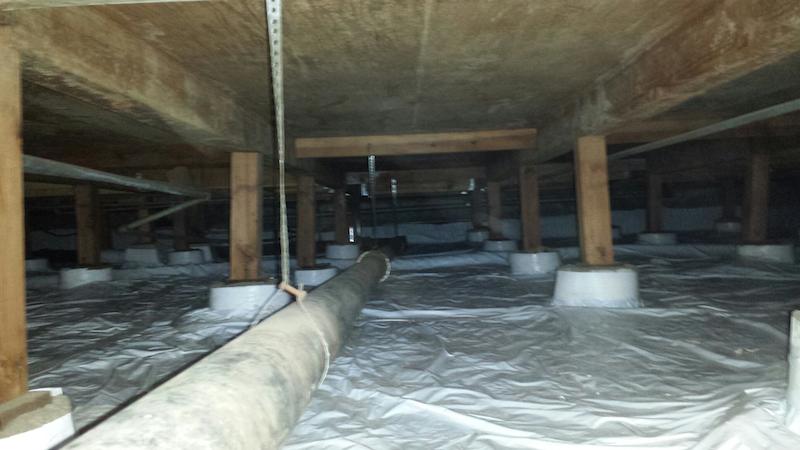 Active Soil Depressurization (ASD) radon reduction systems are another way to mitigate a property. Perforated pipe is laid on top of the soil and a high-density specialized polyethylene sheeting is laid on top of the pipe throughout the entire area. In addition, EIC technicians will both glue and tape this sheeting to each and every stem wall, protrusion and 12" up the sides of the foundation walls. We also provide aprons around all post, piers and pipes. The perforated pipe is attached to PVC to actively draw the air and gas from below the barrier and exhaust it to above the roofline through the PVC pipe and a radon fan.
For homes with Crawlspaces:
Crawl Space Depressurization Radon Mitigation Systems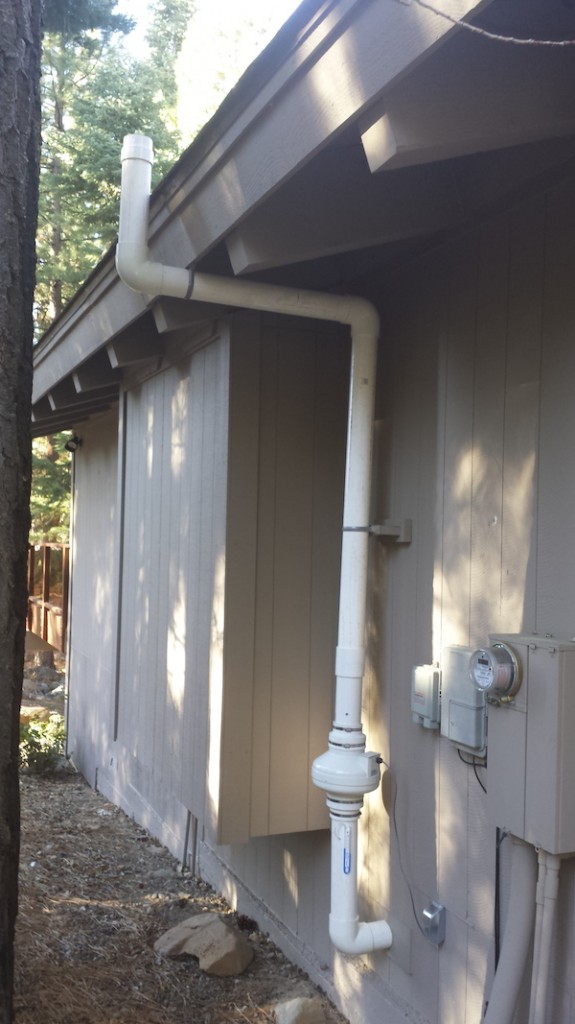 Crawl space depressurization (CSD) systems reduce the radon and will also reduce any moisture in the crawl space. EIC technicians cover any crawl space vents from inside of the crawl space, close off and seal additional air gaps around interior and exterior perimeter of house. The technicians will also seal and caulk all accessible plumbing, electrical, gas and other through floor penetrations from inside the crawl space. The CSD system is actively draws in the air and gas from the crawlspace area and exhausts it to the exterior of home through PVC pipe and a specialized radon fan.
How will I know my radon is low after the system is installed? (Guaranteed Results)
EIC provides a guaranteed level of reduced radon levels in the radon mitigation system proposal. The guarantee level will be dependent upon what the initial ratings were and the construction of the home. Guaranteed levels are generally in the 1.0 pCi/L to 2.7pCi/L range with our typical results below the guaranteed levels. A Certified Post Mitigation Test Report is included in our system installation services. These reports are approved for real estate and financing transactions. Our practice is to encourage homeowners, property managers or realtors to participate in our testing services and to utilize a personal tester.
We do not typically provide a guarantee when we are called in to modify or repair the work of general contractors, plumbers, homeowners or other mitigators who have previously installed some sort of system. This is due to the unknowns of the original work and the high likelihood that the systems were not installed according to industry standards and/or corners were cut. (This after all is why we have been called to the rescue!) EIC and the NRPP advises property owners only hire a certified professional firm with an outstanding reputation for quality. This is stressed due to the fact that it is possible to install a system that will return low readings immediately but not stand the test of time and continue to achieve those low readings year after year.
How will I know my system is working?
EIC systems have a status monitor "manometer" so you can be sure that they are working correctly and are continuously protecting you and your family from the harmful effects of radon. Additionally, we encourage homeowners to purchase a radon tester so they can monitor the long-term levels. Properties should be tested once every five years and after any significant remodeling to the structure.
How Much Does Mitigation Cost?
Mitigation system costs depend upon the architecture and size of the structure. Homes in Northern California, Reno, Nevada and Tahoe are often more complicated than the mid-western homes that national averages are based upon. Be very wary of national firms posing as local specialists who promise quotes over the phone or internet. Each home is unique and requires its own system to be assured of effectiveness.
We provide very reasonable rates for Northern California, Nevada and Tahoe Basin residential and commercial customers. Contact us to get a free quote for your property.
How long will my system last?
EIC warranties residential home radon mitigation system installations and the fans for a period of five years with the warranty transferring to a new owner. The warranty is voided if damage to the system is caused by flooding, remodeling, other contractors or other unforeseen events that damage the system. The fan may need to be replaced after ten to twenty years for a minimal cost.
References
We are happy to provide references to other property owners, contractors or realtors who have utilized our services over the years and who continue to do business with us because of our professionalism and commitment to quality.