What is Radon Gas?
Radon is a radioactive gas that comes from uranium-rich decomposing granite. It is the second leading cause of lung cancer after cigarette smoking. Given the extensive granite in the Lake Tahoe Basin, it is no surprise that many homes in our area have dangerously high levels of radon gas. In a community health survey conducted by Barton Memorial, local lung cancer rates were 9.4% higher on the South Shore than in the rest of California.
The Environment Protection Agency (EPA), California Department of Public Health, and the World Health Organization all recommend testing your home for radon.
How Radon Gets Into Your Home
As radon rises through fissures in the ground and escapes into the air, lower air pressure inside your house draws the gas up through cracks and seams in your home's foundation. Newly constructed homes are just as likely to have high levels of radon as older properties. Radon is a house by house issue, so even if you live in a relatively low risk area, your property may have significantly higher levels than a neighboring property.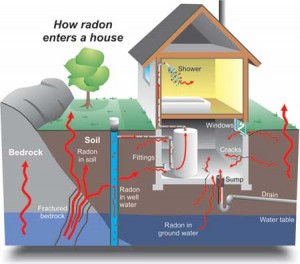 (Click on the picture to view a larger image.)
What's Considered Dangerous?
Radon levels are measured in "picocuries" per liter. A reading above 4 picocuries per liter (4 pCi/L) is considered to be dangerous by both the EPA and the World Health Organization.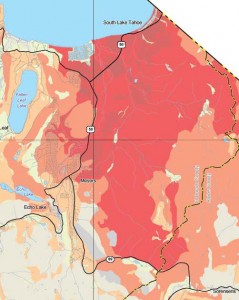 South Lake Tahoe
Has High Levels of Radon
It is estimated that over
65% of houses in South Lake Tahoe
have levels over 4 pCi/L. A University of Nevada, Reno study shows levels on the east shore to be high in 67% of cases.
The World Health Organization recommends reducing radon levels to less than 2.7 pCi/L.
The EPA suggests mitigation in properties where levels are between 2.0 and 4.0 pCi/L and recommends that you take steps to fix (mitigate) your house if readings are at or above 4.0 pCi/L.
(Click on a maps to view a larger image.)
What Can I Do to Protect My Investment and Family?
Radon is odorless – it cannot be detected by smell. The only way to determine whether you and your family are safe from the effects of radon is to test for it. If you find your home or business has elevated levels of radon the problem can easily be fixed with a professional radon mitigation system. Smokers and parents of small children should absolutely test their home.

Contact us to have your home tested today.