Radon Testing
Testing is the only way to establish what levels of radon are in your home.  We recommend that if you are purchasing a home or commercial building, given the high levels of radon in our area, test before you buy. That way, you can factor in the cost of the radon mitigation into your transaction. If you are doing a radon test as part of a real estate transaction, you must have the test carried out by a certified tester.
Certified Testing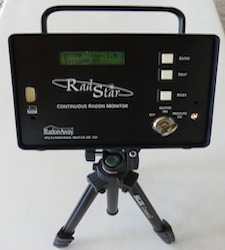 Because radon levels fluctuate naturally and can also be affected by weather conditions, we use a continuous radon monitor over a 48-hour period, ensuring a very thorough and reliable reading.
Our base price for a comprehensive 48 hour radon monitoring test is $250. Contact us today to have your home tested.

Can I Test for Radon Myself?
Radon testing is best carried out by a certified radon tester, however, you can purchase a radon testing kit or radon monitor and do the test yourself. If you choose to do the testing yourself, the California Department of Public Health has links to an inexpensive radon test kit.  You can also purchase a radon tester such as the Siren3 from Amazon.com.
If test indicates elevated levels of radon in your home, radon mitigation is strongly recommended to ensure the safety of you and your family.